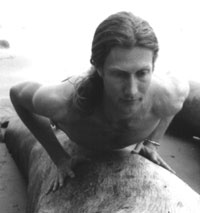 Episode 27 is an interview with Yoga Peeps founder Lara Hedin and Yoga Instructor Steve Dwelley, of Santa Barbara, California. Steve teaches Mysore yoga at Santa Barbara Yoga Center and Yoga Soup. In this episode, Lara and Steve talk about the dialogue between teacher and student, sensitive adjustments, yoga as an evolutionary practice, the subtle energy body, western adolescent yoga, the omega point, and more.

Audio File:
YogaPeeps_112606_SteveDwelley.mp3
Internet Explorer users: Right click the Audio File and Save Target As?, and download it to your hard drive, then Play. Or, for a better web browser use Firefox; download it at GetFirefox.com.
Posted in Yoga Peeps Audio |