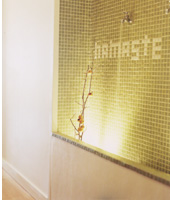 .
Letters from the Peeps…. (email me: [email protected])
Thank you for all the great interviews you did over the years. I really enjoy listening to them for such a long time now and though most of your teachers are from the United States – so I can't go to their classes – I like getting to know their different experiences. 11/09 Best wishes, from Hamburg, Germany.
Namaste,
Verena
Thank you so much for yogapeeps. It is such a source of joy and
inspiration to me! I particularly loved the interview with Shan from
Om Time yoga. It gave me so much to think about. I'm a really
creative, really passionate individual who has embraced yoga as a way
to nurture my body and my mind. Cat, Melbourne, Australia 11/08
I stumbled upon your podcasts a few weeks ago and have been listening almost everyday to a new interview.
First, congratulations on such a wonderful undertaking (I wish you continued success and that this can become a profitable business)
Second – you read my mind!? After listening to an interview I was thinking about how great it would be to have a video podcast that is based around what you do…but to see the yogi's life and how they live it (their living yoga).? Then today I was listening to your interview with Cody and you mentioned just that exact thought – the same thought I had not even a half hour prior.
So – it's a sign – DO IT!
Third – Thank you for bringing yoga to the people :)? We love it!
Om Shanti, Melissa, NYC 11/08
Thanks so much for the work you are doing with yoga peeps.
Amy, Asheville, North Carolina 04/08
I have been listening to your podcasts for a few months now and today was the first time I laughed out loud. I loved the authenticity of your interview with Johnny Kest most notably exhibited by the presence of your son. I was also so impressed by how your baby?s presence was not a disruption, but a true example of being in the moment and the unattachment to expectations. I am the mother of a two year old (on the 30
th
anyway!) and I often struggle with the balance of tending to my own needs and taking care of his. Your podcast was a breath of fresh air, a reminder to come to your breath?.I have also been so inspired by you and all of the teachers you interview. I loved the interview with Lisa Bennett Matkin as well as the co-founder of YogaEd. I am taking RYT200 training this summer and have many ideas of how to bring yoga to the people? thanks to your podcasts..
Looking forward to the next interview! Robyn, Dayton, Ohio 04/08
Thank you for the wonderful yoga peeps podcasts! I am currently in a teacher training and without fail, I learn valuable insight with every one of your interviews. Sometimes I feel like the interview was done with my personal yogic growth. The discussion is always so relevant. Thank you and Namaste! Rachelle, Philadelphia 04/08
I have just found Yoga Peeps and am absolutely LOVING it. I enjoy every single interview. I usually
listen to tech talk shows, but I love Hayhouse, and that type of talk radio as well, and I just wanted to let
you know how much I love Yoga Peeps and hope to hear some new things soon. I know you are a new
mom and that can be very time consuming. Enjoy your little one, but don't forget us who love you too!!!!!
Cyndie, 03/08
What a wonderful idea you've had to interview such great yogis/yoginis. I thank you so much for your efforts and for openly sharing your discoveries. Please continue to do this and consider interviewing David Swenson. Beryl Bender Birch, David Williams and Danny Paradise.
Ward, Greensboro, North Carolina 03/08
Thank you for the podcasts! The podcasts that you are organising are wonderful. It's great to get an insight into the world of some amazing yoga teachers. Love and Namaste, Joanna, Scotland 11/07
I happened upon your podcast on iTunes last week and have listened to interviews on a ferry in Hong Kong (where I listened to my first segment – it was with Kelly Morris and the interview ended just as I got to the yoga studio I had googled) and a ferry today in Sydney (with Kira Ryder – must be something about the water). I thank you for putting yogapeeps on the web – it has been like having some great teachers guide me back into my practice! Thanks! Roger (from NY, working in London and traveling much of the time) 11/07
I stumbled across yogapeeps earlier in the week when I was looking for a shorter online sun salutation routine to try to reignite my pretty damned dormant practice. The routine on your site is great, plus it's free, accessible and truly welcoming. I've started the day off so much better each time I've practiced before work this week. Thanks so much for this truly tremendous and accessible resource. Really helps out when I don't have the dough or the time in the workday to pony up for a class. Am looking forward immensely to content that comes across your rss feed, to which I subbed today. Thanks so very much
Christine, Chicago 7/07
I just discovered yoga about 4 months ago and as a newbie I really find your podcast insightful and very helpful in introducing myself to the different ideas and philosophies of yoga. Just like with my first yoga class, i was hooked with the first interview i listened to just a few days ago 🙂 It's very interesting and inspiring what experienced yoga teachers around the world have to share about their practice, their learnings from teaching, and their take on some issues like vegetarianism. Right now as a beginner I feel like I've stumbled upon this whole new world of yoga and there's so much information to grasp that sometimes I don't know where to start..but I'm very enthusiastic and excited about my journey. Thanks for, as you say, bringing yoga to the peeps! Namaste! Sushee, Manila, Phillipines 6/07
I have recently found your website and just wanted to say thank you! It's a fantastic
resource and I will certainly tell my yoga friends about it. I am in the process of
launching myself as yoga teacher and found the Matthew Sweeney interview very
inspiring – your interviews are really thoughtful and well-structured.
Many thanks again, Lizzie, London, UK 6/07
I just wanted to know if I could request that you interview someone? If I can – her name
is Erika Faith Hattingh, and she runs Cloud 9 Yoga in Laguna Beach, CA. Her website is
www.cloudnineyoga.com – she's one of the most amazing people I've ever met, and I
think that interviewing her would be awesome!!
Hope you're well, I love what you're doing – bringing yoga to the people!
Jeff Rieber, Owner, H(om) Yoga, Des Moines, Iowa www.hom-yoga.com 6/07
I'm really enjoying your interviews. They are fresh, lively and insightful. I love the way you
ask simple questions and then allow the interviewee to answer in their own way
without you steering or interrupting the response. A very refreshing style.
Greetings from England, from a keen yogi 10 years into practice.
Keep up the good, no, great work – great idea! Peace
:Duncan, Winchester, Hampshire, England 5/07
Hi! I just wanted to tell you that I really enjoy your podcasts. I've been listening to them
since Eoin told me about you a year ago. You're doing an awesome job!
Have you considered adding a donate button on your site. Forget sponsors; it
should be us yogis who appreciate and value what you do who step up to support you.
Tilak, Virginia 4/07
www.tilakpyle.com
www.ihanuman.com
Thank you for your devotion to yoga and for doing all you do.
I just told a friend of mine living in Vietnam about
Yoga Peeps. She told several of her friends and now
there is a flyer posted in a Yoga Studio in Hanoi that
says…."www.YogaPeeps.com, Bringing Yoga to the World"
and good English practice too! THANKS LARA!
You have interviewed 3 of my favorite teachers:
Eoin Finn
Darren Main
Doug Moss
They are great guys. Tori, Los Angeles/Canada 04/07
Hi Lara,
I've been practicing very basic yoga once a week since autumn. It's been
nice though the group I go is a bit large and the teacher doesn't go at
the pace I'd like to go. And once week isn't much and unfortunately I
don't always have chance to go to it.
So, I discovered the Yoga Peeps site few days ago when I was looking for
motivation/guidance to do yoga at home. It's been a good resource and I
really like the videos. I just did sun salutations, after I woke up,
while playing your video and it was great! The video gives me an
opportunity to easily see how somebody does the poses and to adapt
myself. And I really like your voice 🙂
It'll take a long time for me to master the poses in sun salutations and
the 20 minute yoga flow videos but I'm already wondering what next? It
would great to see a video or two more on the site one day. Learning the
philosophical side of yoga is of course on the to do list too and the
interviews will certainly be big thing in that. I'd also like to hear
more from and about you on the site.
This might seem kinda what I want type of email but I really appreciate
everything Erik and especially You have already done. Thank you!
Tommi, Finland 04/07
I feel like I've chatted w/ you countless times b/c your podcast interviews are so yummy, down to earth and conversational. My name is Christine & I'm a newly minted yoga teacher in Albuquerque NM. My teacher – Meta Hirschl – who owns YogaNow here in Burque would make an awesome interview subject. She has talent for seeing bodies and structures and helping with alignment. She has an expansive world view and a truly infectious creative outlook. Her website is YogaNow.org if you want to check out what she does. Keep it coming! I dig what you're up to.
May we all be happiness. May we all be the causes of happiness. May we all be freedom's true joy. Christine, Albuquerque, New Mexico 3/07I love your podcast and I'm subscribed. I was wondering if you could interview more ashtanga teachers like: David Swenson, David Williams (definately), Chuck Miller/Maty Ezraty, Richard Freeman (and ask him if he is the only practioner of Ashtanga yoga to complete fifth series! he been holdin out on us.), Nancy Gilgoff, John Scott, Tim Miller, Olaf and Nina (of www.nilaf.com) etc.
Sorry to give you such a list. I just feel like as much as people know about Ashtanga. They don't really. And those senior teachers are so lovely and open with themselves and their practices.
Anyway, Happy Holidays to you and thanks for taking the time to listen and share your interviews. They really are an inspiration to my friends and I.
Ralph, New Orleans, Louisiana Dec.06

from drishti's e-newsletter:
"Santa Barbara Yoga Instructors Interviewed!
Recently, a small handful of our very own Santa Barbara-based yoga instructors have popped up in interviews on the far-reaching web! We always knew that these excellent teachers had insightful and interesting thoughts to share, and apparently these interviewers felt the same way! The rest of the world now has the opportunity to hear Steve Dwelley, co-director of the Ashtanga Yoga Shala in downtown Santa Barbara, discuss teacher-student relationships in the yoga room, yoga taught in an orthodox fashion vs. a semi-relaxed fashion, Sri K. Pattabhi Jois and B.K.S. Iyengar, vegetarianism, how he came to teach yoga, and more. Steve?s interview was elegantly conducted by Lara of the website Yogapeeps.com, which has made a name for itself by interviewing various yoga instructors and podcasting those interviews through the web for access by anyone. (Yoga Peeps has interviewed such well-known teachers as Shiva Rea, Cyndi Lee, Ana Forrest, and Bryan Kest. If you have an interview suggestion for Yoga Peeps, e-mail them and let them know!) Another local instructor to be featured on Yoga Peeps is the owner of Lulu Bandha?s in Ojai, Kira Ryder. In her interview, Kira describes her most influential teachers, her favorite books, her studio and community, her yoga teaching style, and more.
For those of you who reside in Santa Barbara, these interviews will either help you better know your teachers, or motivate you to take a class with one of them. And whether you live near Santa Barbara or not, listening to seasoned teachers speak about the practice of yoga will surely inspire you with thoughts and ideas that can be integrated into your own experience on the mat". Dec. 06
Wow, Lara, thank you so much for having your website/podcast. I ran across it by luck. I've had trouble finding yoga vidcasts that aren't so male-centric. And I really like the spiritual vibe I get from your postings.
Nolan, Nov.06
Love the podcasts…
thanks,
Trey, Tyler, Texas, Nov.06
I started listening to your podcasts a few months ago & I absolutely love it ! I commend you for doing such a great service to the yoga community and beyond. Thanks & keep up the awesome work!
Namaste,
Vasana, New York City, Nov.06
i discovered your website yesterday and downloaded all interviews immediately last night. This is the kind of info I have been looking for. I have been doing yoga for 3-4 years and have thought about doing a TTC somewhere, sometimes…These talks give nice perspective.
this morning as I traveled from Queens into Manhattan for my daily ashtanga yoga class, I had a great 50 minute commute with your interviews on my mp3 ears. Wow! Some kind of intro and outro to my class. Thanks so much for the inspiration, good questions, good conversation, nice unpretentious vibes, … I am inspired and look forward to the 21 other interviews. Nice also to have the shownotes with all the info. I am a fan!
Bless, Neek , Brooklyn, New York, Oct.06
Love the podcast. The vibe is great. I too am interested in reaching out and seeing who is out there or having my voice and my yoga resonate with the world. I do love your soothing voice and how you say "dot com, bringing yoga to the
people." keep it up with the show.
Garrit, Orange County, California, Oct. 06
Hi Lara,
I just did your 20 minute "taste" of yoga in my classroom on the floor during my prep!! Thanks, very nice.
Love you!
Jen, Palo Alto, California, USA Sep.06
I am so in love with your podcast, i found it almost exactly when i was really taking my practice to a new level and it is just such an inspiring and motivating podcast. i have heard each interview at least 3 times! they're so great 🙂 thank you so much for what you do! i go to the laughing lotus studio in nyc and would love to hear an interview from either one of the owners, dana flynn or jasmine tarkeshi.
namaste
Jess, New York City, USA Sep.06
I love to hear the interviews on Yoga Peeps! Hearing these experienced teachers speak about their practice and give advice to new teachers is such a blessing, specially since I'm going to start my Yoga teacher training this week.
I was wondering if you are planning to interview Seane Corn sometime in the future? There's not a lot of info out there on her, and she only has a couple of videos, but her philosophy really speaks to me and I'd love to hear her speak.
Looking forward to hearing more!
Namaste.
Sandy, Union City, New Jersey, USA Sep.06
Hi there from San Francisco! I'm a yoga teacher on the side (in addition to the day job) and wanted to tell you how much I appreciate your podcasts. I really admire how you have found quite a variety of teachers and gotten to interview some yogis particularly inspirational to your own yoga practice. It is a wonderful offering and greatly appreciated. As a relatively new teacher, I've really been helped hearing the different teaching philosophies and perspectives on yoga. It's really enhanced my own practice and teaching and always reminds me of why I'm drawn to that yoga mat! Thank you very much and I definitely hope to meet you some day along the yogic path.
Namaste.
Megan, San Francisco, California Sep.06
Love your interviews… it really helps me connect with a lot of the teachers out there that i normally would know. Keep it up.
Namaste
David Kyle, Puerto Rico, Yoga Instructor Sep.06
Thank you so much for the work you are doing with your interview podcast of yoga instructors.
I listen to them while hiking. Your interviews are insightful and have stimulated my creativity as an instructor as well as turned me on to additional resources of learning and information. Please continue the wonderful work you are doing!!!
Thanks again.
Woody, New Mexico, USA Aug.06
Lara, How wonderful to find your beautiful, simple site giving us the opportunity to listen to the thoughts of yoga teachers we've heard of but may be unlikely to ever experience in person! Thank you from the bottom of my heart.
I have listened to several of your interviews. Shared insights and experiences can bring us all closer, and enhance practice and teaching.
Thank you again, Lara. Namaste and Love.
Claire, New Zealand Aug.06
These podcasts are such a gift! I listen to a lot of podcasts while I'm at work, to help remind me of the things that are going on in the world and keep things in perspective.
The yoga peeps podcasts are so empowering and inspiring. It is such a joy to have these conversations as part of my day. Thank you so much for putting these out into the world!!
Diana, Madison, Alabama USA Aug.06
I spent part of my lunch breaking listening to an audio interview with Cyndi Lee while I was filling out checks to pay the monthly bills. I really enjoyed the conversation. Cyndi brings a Buddhist vibe to yoga so she emphasizes meditation and life style. She's invovled in a lot of interesting projects in New York and around the world.
Lara Cestone, the founding spirit behind Yoga Peeps, really does a fantastic job bringing together lengthy (30-60 minutes, I think) interviews with yoga instructors around the United States and Canada. She has 19 episodes now, available as podcasts or mp3 files, with people like Ana Forest, Shiva Rea, and Kelly McGonigal, as well as lesser known instructors. Lara does this out of the good news of her heart because there are no ads on the site and there does not seem to be a business model behind it.
I am just becoming a yoga teacher and am finishing my school in september. Because of long car trips I started to search for some good input through podcasts for these trips and have found the well kept interviews from yogapeeps.
It?s not only interesting to hear from well known teachers, but also very inspiring for my hopefully coming classes and lessons I still have to learn.
I love sentences like "I do only eat what I could kill myself (the wild salmon… )" and to know that the book recommendations correspond to the german recommendations in the wide yogafield.
Keep on that way, it?s good to transport yoga every day a bit more into the "human" world.. and it?s good to see that good stuff around yoga does not forcefully come only from the indian continent.
Thanks + kind regards,
Vera, Munich, Germany Jul.06
I love your website and podcasts. I have been listening for the last few weeks. I particularly liked the interviews with Kelly McGonigal and Eoin Finn. All of your interviewees are really inspirational people and it is so good to hear their voices, as well as yours! Before I heard your shows, I hadn't done any yoga at all , and hearing what these people have said, made me want to start practicing. So now every morning when I am out on my run round the countryside here, listening to podcasts, I stop in a beautiful place and do some rudimentary yoga, and it's great and makes me feel so good! So thanks for the inspiration for starting a new way of being. Now I will have to find some yoga teachers locally.
Richard, Warwickshire, United Kingdom May.06
Congratulations on a wonderful podcast! I've listened to every single one and I've found them all to be inspirational and interesting. I absolutely love getting to hear the perspectives of so many different yoga teachers. Keep up the good work. You're providing a lovely service for the yoga community – Thank you!
Annie, USA May.06
THANK YOU so much for Yoga Peeps. I live in an extremely rural area of north Georgia, very conservative. Our gathering place here is Wal Mart. It is a breath of fresh air to be able to listen to Yoga Peeps interviews. They bolster my practice, inspire me and give me hope and positivity.
Looking forward to hearing the interview with Shiva Rea.
KEEP UP THE GOOD WORK! Lara, I think you should go for it with "Marley Yoga". I included "Soul Shakedown Party" in my practice today.
Celeste, Georgia, USA Apr.06
I recently discovered your fantastic podcasts. As a long time practioner I am always looking for ways to deepen my relationship with yoga and these interviews are fabulous! Keep up the great work. It's funny I'm listening to your interview with Twee again today because it just spoke to me and where I am right now with life. Beauty, beauty, beauty! Living up here in Alaska I get a bit disconnected from a community of teachers, I can't say thank you enough for these marvelous podcasts. namaste
Amy, Alaska, USA Apr.06
I love your shows as they help us build a professional community of yoga teachers. We tend to isolate ourselves in our own individual styles and within our studios. I am here in San Francisco, and I just went to a workshop with Judith Hansen Lassater where this was a major point. I teach A'stanga at my neighborhood studio, but I am so grateful to be in a city that allows me to explore other styles of yoga. The teachers at Katchie's studio are awesome, and I really appreciate how Katchie settles the class down with her harmonium playing and a chant.
You should ask the teachers about when they knew they were ready to leave their teacher and the feelings it brought up at the time.
Patrick, San Francisco, California Apr.06
This is the first time I have used podcasts and your interview on Yoga has been a wake up call for me to re-start my Yoga sessions again.
Martin, United Kingdom
WOW! Your site looks amazing! I am so proud of you for following your
passion. It really shows how you walk your walk and let your energy
flow!
Lita, Corte Madera, California, USA
I found your podcast on Itunes. I have recently discovered Yoga through my girlfriend and though I have used a few DVD's and read articles on the web I an interested in working with someone who is more advanced in the practice of Yoga.
Aaron, United States
Katchie was one of my favorite teachers at Jivamukti in NY years ago. She always brought some far out ideas into the class. Much like Kelly described David Life as doing, calling it "gutsy".
She may not remember me from those days, at least by name. But she was a memorable teacher.
Thanks for your awesome work. Om Namah shivaya.
Sarah, Kauai, Hawaii, USA
Great work! Came across your site through Kelly McGonigal's e-mail newsletter. So exciting to have fellow fun yoginis working with podcasts.
hiptranquilchick.blogspot.com
Kimberly Wilson, Washington, D.C.
yeah, lara
you rock… your show rocks – the interview was super fun…
great job…
Eoin Finn, Vancouver, British Columbia, Canada
While I am an avid yoga practitioner I found your podcasts last night doing a search for vegetarian related podcasts. Regardless of how I found them I spent the entire morning listening to them back to back to back and am now wondering when the next one will be?
The pool of people that would provide interesting interviews in this community is so unbelievably deep. Your bringing these people to a wider audience it truly a gift to us all. I love that in interviewing these people you discuss more than just? asana. I love that the discussion expands, as it naturally should to diet, ethics, love, spirituality, etc. The interview with Eoin was the best yet; please keep up the beautiful work.
Jon, Long Beach, California Mar.06
Great job with the site!
I downloaded most everything on the site, including the vidcast of you doing a routine.
Thanks and keep up the good work. Your guy did a great job with the technical end. Maybe he can make a site for me 🙂
Cameron, Canada
I truly enjoy your podcast, and loyaly listen each week. I would love to hear an interview with Natasha Rizopoulos.
Stephen, Los Angeles, California, USA
thanks for your podcasts… love listening to the variety of inspiring answers.. great for beginners and seasoned veterans! keep up the great work!!
Mark Gerow, Chicago, Illinois, USA
Awesome podcasts, what a great idea and site!
Peace.
Kris, Canada
I felt like saying hi and thank you for this great yoga site. I've been listening to the interviews for about month now and find them very inspiring and interesting to listen to. I'm always looking forward for the next one!!
I have also been enjoying your video podcast and I really like the peaceful atmosphere and its gentle approach. It has inspired me to go into a more regular yoga practice, which is nice! And as a sociology student I use it sometimes as a break from my reading to get more energy and to feel more alive. Reading can be really draining and doing the 20 min yoga practice helps very much on my concentration and feeling good about my life 🙂
It's great – thank you so much for sharing your positive yoga vibes with the world 🙂
Karina, Denmark
I really enjoyed the show with Mark Gerow and felt very energized by his penetrating insights into how yoga sustains us yogis. You're doing phenomenal work in putting out such an informative program. Just wanted to mention the book Go In and In is by Danna Faulds which is great for giving students something to take away from class.
Patrick, San Francisco, California
Send us your feedback! Go to the Contact page, and fill out the form. We love hearing from you. This site is for you.