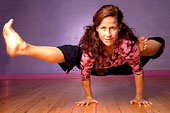 Dana Flynn is Co-Founder & Co-Director of the yoga School and Center at Laughing Lotus, in New York City. Dana is a Mystic, a Minister and Messenger of Light. She is wild and playful, creative and offbeat Her classes are designed for you to uncover, explore and Celebrate your own Greatness! Teaching from her own practice, Dana is constantly reminded that Yoga is a Living, Breathing Tradition, one that is constantly evolving…just like YOU!
Rodney Yee praises Dana, Dana Flynn has a yogic spirit that is enormously infectious. She is helping to bring the play, fun and laughter back to a tradition in which it is all to easy to take oneself too seriously. She also has knowledge that can help us all align a little deeper with love.?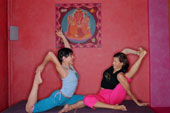 As their website, www.laughinglotus.com explains, "The yoga practice at our Center is a Spirited style of Vinyasa that creatively and passionately links the physical poses with the rhythm of the breath. Our high-spirited teachers infuse each class with inspirational music, Divine wisdom, devotional poetry and singing; creating an ecstatic experience of harmony within and with the world around us".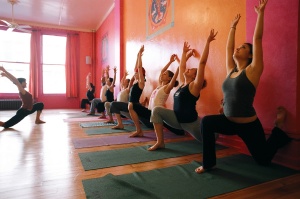 Visit them:
Laughing Lotus Yoga Center
59 West 19th Street, 3rd Floor
New York , NY 10011
(Just off 6th Avenue)
Phone: (212) 414-2903
Fax: (646) 435-0624
Email: [email protected]