Kimberly Wilson, creative director and founder of tranquil space yoga, built a socially conscious and blissful business in her living room in her mid-20s. Seeking a nurturing, community-focused and creative haven, she created the modern day tranquil space. Kimberly has completed teacher trainings with ashtangi David Swenson and vinyasa teachers Cyndi Lee, Baron Baptiste, and Shiva Rea. She brings a well-rounded approach to her students, and is known for her inspirational and empowering style.
She has completed a masters degree in women's studies, produced a newbie and intermediate audio yoga cd, and launched tranquil space bethesda with Siobhan Troy. In addition to teaching yoga and training others in her specialized style, she designs the tranquiliT clothing line featured in Shape and Lucky magazines, leads creative lifestyle-focused workshops and retreats, hand picks all items for the studio's tranquiliT boutique, and is working on her first book, hip tranquil chick.
She has been featured in Washington Post, Washingtonian, Fit Yoga, and Yoga Journal, along with a book showcasing 21 entrepreneurs who started from scratch. Her passion for writing has let to publication in Fit Yoga, Washington Woman, and Healing Lifestyles and Spa. Kimberly enjoys musing through the tranquil space newsletter and tranquiliT times, writing in her blog, sharing insights through her podcast, and is a featured columnist for urban divas. Hosting tranquiliT trunk shows to help empower women to create is a delight of Kimberly's. A highlighted female entrepreneur on websites such as bodacious women, women's business center, and ladies who launch, kimberly passionately believes in inspiring other women to live a chic and conscious lifestyle. She has appeared on tv and radio sharing basic bliss-producing poses, and loves speaking at women's events encouraging women to start small, dream big, and leave a legacy. Watch for her upcoming interview on martha stewart living radio.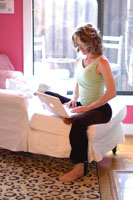 Kimberly lives in a cozy raspberry and leopard print embellished condo in Washington DC's artsy Dupont Circle with two black felines named after French Impressionists, and a black pug named Louis. She loves building her community by throwing charity-focused soirees.
Contact kimberly about speaking at your event, leading a yoga or lifestyle workshop, mentoring for your business or creative development, writing for your publication, showcasing your creativity at an upcoming tranquiliT trunk show, wholesaling the tranquiliT luxe lifestyle collection, holding a trunk show of the tranquiliT collection at your boutique, or just to say "hello."