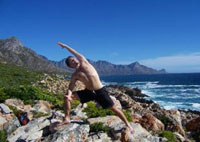 Doug's Influential Teachers:
Sarah Powers
Tias Little
Paul Grilley
Ganga White
Tracy Rich
Peeps he Would Love to Hear:
Sarah Powers
Tias Little
Tracy Rich
Books:
The Deeper Dimension of Yoga – Georg Feuerstein
Yoga: The Spirt and Practice of Moving into Stillness – Erich Schiffman
Yoga Beyond Belief – Ganga White
Light on Yoga – BKS Iyengar
Light on Life BKS Iyengar
Tao Te Ching – Lao Tzu
Shambhala: The Sacred path of the Warrior – ChogyamTrungpa
Hooked! Buddhist Writings on Greed, Desire and the Urge to Consume – Stephanie Kaza
~~~~~~
Recommendations for those New to Yoga:
1. Take it Beginner's Classes or an Intro to Hatha Yoga series
2. If you take an All Levels class TAKE IT EASY….SAVOR each pose.
3. If you are aware of your breath and you feel something in your body then you are doing yoga.
4. Try different teachers and styles until you find what resonates with you.
5. Take time to be a beginner. It is a wonderful place to be in your practice. I even tell more experienced practitioners to take beginner's classes to return to beginner's mind.
~~~~~
Recommendations for New Teachers
1. Take it SLOW. Teach just 1 – 2 classes a week MAX.
2. Give yourself a LONG time to develop as a teacher. Practice Patience.
3. Shadow, assist etc a more advanced/master yoga teacher.
4. Always take classes or practice more than you teach!!!!
~~~~
Contact Info:
Doug Moss
Green Tara Yoga
1330 Monte Vista Avenue Ste 6
Upland, California 91786
(951) 218-6673
www. GreenTaraYoga.org
www.DougMoss.com
Music: Aguamala, Carne Crusa