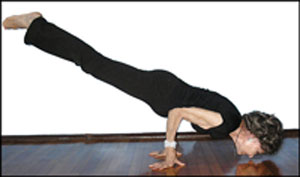 This year Tao Porchon Lynch celebrated her 88th birthday in a very special way. Wearing a form-fitting red dress, four inch high heels and a red flower behind her ear, she and her 28-year-old partner won first prize in the Fred Astaire ballroom dancing contest for the Northeast area. Her win was just another example in a long chain of extraordinary experiences that characterize her life. I believe that people should not impose limits on themselves,? she says. They must believe they can do whatever they set out to do.?
Certainly Porchon Lynch?s life exemplifies the effectiveness of this philosophy. She resists easy categorization.
She has been a yoga teacher for the past 30 years. She currently teaches everyday of the week, several classes a day. In addition, she holds master classes at different venues in New York City and Westchester and trains and certifies new instructors.
Tao Porchon Lynch is a multi-faceted woman with 88 glorious years of a life well lived. She has traveled the world and continues to lead groups on yoga retreats to India and France. From her childhood in India, Tao?s life and life choices have always referenced light,? spirituality and joy. Her work with noted Gurus, Swamis, Leaders and Healers has inspired, informed and guided her on her path as a teacher, actress, dancer, wife, mother, filmmaker, wine connoisseur and activist.
Tao?s Yoga Background and Training:
? Brought up in Pondicherry, India, Tao studied the Vedas at the Aurobindo Society and the Ramakrishna Vedanta Society in Los Angeles where she was a disciple of Swami Prabhavandanda from 1951 until his death in 1999;
? She studied at the Madame Blavasky Theosophical Societe in Paris;
? Tao is a Master Yogini:
She studied extensively with BKS Iyengar, from 1968 through most of the 1980s; she trained with him in Bombay and Pune (Tao was one of the first teachers of Iyengar?s method in the U.S.);
o In addition to her study with Iyengar, Tao has drawn from the lineage of other great Gurus and Masters, including:
? Mataji Indra Devi
? Pattabhi Jois
? Mysore Techniques
? Swami Prabhavananda.
? Donna Holleman in Italy
? David Swenson
? Rodney Yee
Tao?s Experience Teaching Yoga:
? Experience as a Master Yoga Teacher:
As a Master Yoga Teacher with over 35 years experience, Tao has taught yoga in California, the Eastern United States, France, Great Britain and India;
Recent (2006) yoga teaching experiences include:

Capitol Hill, Washington D.C. led a yoga workshop and has been invited back;
Rye, New York, Wainwright House provided an intensive yoga training for yoga instructors;
Returned four times to Virginia Beach, leading three-day yoga workshops for training teachers
Integral Yoga in New York, NY; in 2006 alone she has done three workshops and has been asked to return;
Tao?s regular teaching schedule includes advanced, intermediate and beginner classes every day of the week. On select days, she juggles several classes at various locations in lower Westchester, NY;

Tao has led groups on Yoga retreats, including:

Trips to Bali and Morocco, annual trips to France and nine trips to India;
In the past year, 2006, Tao led;

Two trips to India-one in January 2006 and one completed in October 2006;
One trip to the South of France in Summer 2006;

Tao is scheduled to lead another retreat to India in September 2007 and Peru, later in 2007.
Tao as Role Model and Leader
? She has worked to bring light into the world, a fundamental aspect of any yoga practice:
o She walked for Peace with Gandhi, in 1939;
o Tao was a member of the French Resistance during World War II;
o Tao was invited to participate with 400 famous teachers from around the world in Yoga for Peace in Israel in 1995.
? Co-founded the Yoga Teachers Alliance (here in Westchester) in 1978, later renamed the Yoga Teachers Association:
o Tao has served as President (four years) and currently as Program Director (26 years);
? Tao also founded the Westchester Institute of Yoga in 1982. She has certified over 200 instructors throughout the United States.
? Developed a meditation and relaxation CD in collaboration with the composer, John Guth
MEMBERSHIPS:
– The Yoga Alliance
– Yoga Teachers Association
– International Association of Yoga Therapy
– Vedanta Society of Southern California
– Ramakrishna Vivekananda Society, Belur Math, Calcutta
– Theosophical Society, Paris Franceh
– American Wine Society