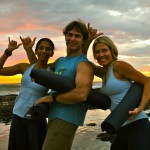 Eoin Finn, a Vancouver based superflow surfin' yogi Blissologist, just released a new DVD, The Pursuit of Happy Hips. I caught up with him this week and asked him about it.
Lara: Hi Eoin, It's been a couple of years since our first interview, what have you been up to? How was Bali?
Eoin: Bali was amazing and so inspiring. We spent three and a half months there last year. Even though I love what I do, mostly when we were there we were filming. We filmed an epic 6 yoga routines and 6 meditation routines for an upcoming project called "Everyday Yoga and Meditation." It's was a huge undertaking to say the least but Bali is no place where you really want to work; the internet is slow, the pace of life is slow, it's hot and there is so much yoga and surfing to do. It was nice to go back this year with little agenda except to really relax and enjoy what we love as individuals and as a couple. If you have never heard of it, you have to go to the Bali Spirit Festival next year for 5 days of Yoga, Dance and Music. It was amazing to teach and share in the energy there.
Right now, I am just enjoying being home, surfing, doing yoga, taking in the culture of Vancouver and spending time in my hammock under all these amazing cherry blossoms. May is going to get busy editing again.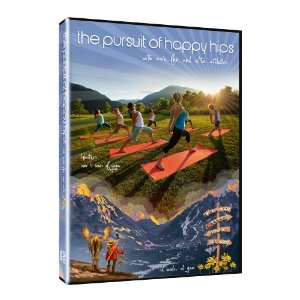 L: I know you have an awesome new DVD you just released, The Pursuit of Happy Hips. Tell us about it.
E: The Pursuit of Happy Hips turned out better than we could have expected. It came about from my 6 years of working with Olympic Athletes and lululemon elite ambassadors. They all really love the benefits of yoga because it brings balance back to their lives and to helps them excel at their activities. Because they travel so much they asked if we could make them a DVD they could do on the road. This was the original inspiration.
These athletes have insane fitness levels so sometimes they want a yoga routine that is challenging for their fitness, but sometimes they are just tired from training and traveling so the yoga needs to be more restorative. As a result some routines are more mellow and some are physically challenging.
Also, even on the more challenging routines, I went deep into alignment and took a slower approach. My deal with the athletes is that if they ever hurt themselves when they were training on the road, I would do their competition for them. I didn't have much desire to go off a ski jump doing a million flips or go down a bobsled run headfirst so this slow, detailed approach is key.
I also love the music and the audio tracks laid down by other teachers to Olympians Tracey Delfs and Insiya, my wife.
The DVD is so good for the general public and not just Olympians.
L: Why the Hips?
E: First off, we don't just focus on the hips only making sure the routines address the needs of all parts f the body and mind, but there is definitely an emphasis on hip opening and balancing.
The original idea for this hip focus comes from the athletes themselves. Most of the Olympians talked about restricted range of motion in their hips them because they use their legs so much as such a power source.
On a deeper level, the pelvis is functionally the foundation for the spine, and so much of our health is related to our spine. It is also the connecting place between the upper and lower body and it is a place where culturally we feel so many taboos. In a really simple sense, opening up the hips is such a fast track to deep bliss and that's what we are all about.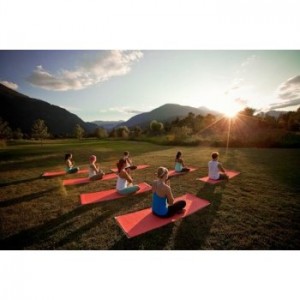 L: The DVD is shot so well, with scenes in Whistler, and Vancouver. Absolutely gorgeous. I love practicing outside with you guys every week at my home with the DVD. Tell me about the different sections, Easy Street, World Champion Hips, Hot Chocolate, All Downhill – How are they different?
E: Yeah, as I mentioned some routines are super mellow and some really challenge your fitness. We expanded on the ski map idea and rated the routines in terms of green dots for the more mellow ones and black diamond for the more challenging. I am big into nature and even though it makes for extra challenges shooting outdoors, I think great scenery is the key. A big part of Yoga for me is about connecting to Nature.
The great thing about this DVD is we started with 2 1/2 hours of routines that get edited down into sub routines. Our past DVDs have had about an hour and a half, so there is tons of different material for each routine
We also have 2 others coming up on the new blissology.com website when it launches in mid May. One of them is free with thePursuit of Happy Hips DVD called 'Tantric Trail ' and the other is 'Double Diamond Hips' which, as the name suggests, involves super deep hip opening with half and full lotus variations. I've been testing it a lot this week and I feel high every day!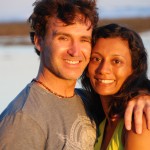 L: What's coming up for you?
E: Always lots. I was listening to Deepak Chopra's Radio show and he interviewed the author of a book called 'Well Being, the Five Elements' and he said that only twenty percent of the population enjoy their work. That's insane, because my work is my art and my offering, I love it.I think one of the main things I want to do is get the Blissology idea out in the world since I feel it is a key philosophy that can help give voice and momentum to the environmental movement and bring more kindness into the world. I just got a U.S. Visa which is amazing because I have never been able to teach in the U.S so I really look forward to sharing what I do there. May is going to find me in our Vancouver Island home a lot where we will be surfing, yoga-ing and editing the Every Day Yoga and Mediation DVD series. We may line up a couple of classes in Cali.
Mostly I want to write. I seriously pray every time I get on a plane that the plane can not crash until I write some of the books I have in mind. It is my life mission to get it down on paper. Writing is my big, big passion.I also want to practice and spread Hammock Enlightenment. I think it key for saving the world. I want to set up our relaxation sites in different cities we visit.Other than that, spending time with Insiya and considering starting a family… Wow, did I say that?!?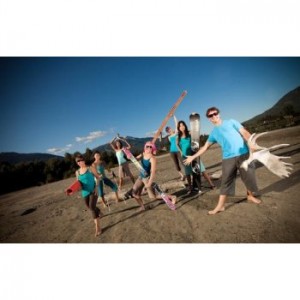 Thank you so much for chatting with us today. People can find you at your blog and website, www.eoinfinnyoga.com, where you have more free yoga downloads, info about your Teacher Trainings, and YES Retreats. You're also launching www.blissology.com, which we'll look out for in the coming months.
You can pick up a copy of the DVD at Amazon. To win a FREE copy of Eoin's new DVD, look for Eoin's audio interview coming out here on Yoga Peeps next week, with details on how to win.