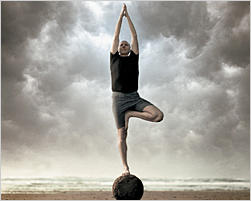 Larry studied with Stan Heffner, Tim Miller, Danny Paradise and David Willams. He also studied with Pattabhi Jois for five years in the United States.
Larry founded It?s Yoga in San Francisco in 1987. He has taught thousands of classes, nationally and internationally, and over 25 Teacher Trainings. Larry designed the It?s Yoga Teacher Training curriculum. Over 1000 Ashtanga Vinyasa Instructors have successfully completed the 200 hour course.
It?s Yoga- San Francisco is the oldest Ashtanga studio in the West. Over 15 It?s Yoga Studios have been started around the globe by graduates of Larry?s Teacher Training Program. Larry is known nationally and internationally as one of the foremost Ashtanga Yoga Instructors in the West.
Larry has taught over nine thousand classes and has influenced hundreds of teachers across the globe. His teachings have reached crowds as diverse as the Grateful Dead of the Rockin Roll world, the computer geniuses of Silicon Valley, the 49ers, financeers, scientists, artists, students, and entertainers. He has facilitated the opening of twelve studios and is expanding internationally.
Larry has been referred to as the original "Bad Man" of Ashtanga Yoga for creating a challenging and contemporary routine known as "the Rocket." The Rocket sequences poses from the primary, intermediate, and advanced series of Ashtanga Yoga to create theultimate health management system.
Apart from this creative and safe approach to Ashtanga Yoga, Larry is best known for the humor, discipline, generosity, and kindness, which characterizes his unique teaching style. He has been based in San Francisco for the past fourteen years where he runs one of the largest and oldest yoga studios in the Western World today.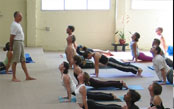 It's Yoga
848 Folsom Street, San Francisco, California 94107
Tel. 415.543.1970
www.itsyoga.net