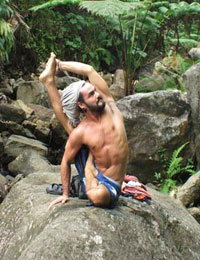 Episode 24 is an interview with Yoga Peeps founder Lara Cestone and Yoga Instructor David Kyle, It's Yoga Puerto Rico. David teaches yoga around the world, at It's Yoga studios in Sweden, Venezuela, San Francisco, Mexico City and Miami. David can be found at www.itsyogapuertorico.com. In this episode, Lara and David talk about the inner guru, savasana, connecting with youth, his challenges, and being breath-tarians.

Audio File:
YogaPeeps_101406_DavidKyle.mp3
Internet Explorer users: Right click the Audio File and Save Target As?, and download it to your hard drive, then Play. Or, for a better web browser use Firefox; download it at GetFirefox.com.
www.music.podshow.com: This I Know, Rachael Kann