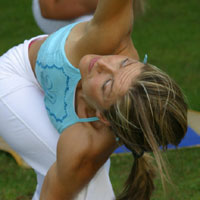 Find the episode here
Books:
Dancing the Body of Light, by Dona Holleman
Living Your Yoga, by Judith Lasater, Ph.D, P.T.
Teachers:
Gioia Irwin of Vancouver, B.C., Canada
Orit Sen-Gupta of Israel
Dona Holleman of Italy
Dr. Nikica http://www.yogadivas.com/?page_id=4, [email protected]

Her dvds include: Power Yoga for Happiness, with Eoin Finn; and Power Yoga with Tracy, Vol. 1 Inner Strength. Her dvds can be purchased at www.halfmoonyogaprops.com, and www.zenathletics.com.
Vijnana Yoga Studio
#204-1529 West 6th Avenue
Vancouver, B.C. Canada
V6J 1R1
Phone:(604) 734-8932
Her website is: www.yogadivas.com
Contact: [email protected]