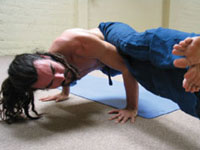 David can be described in many ways. Some qualities he strives for and others tend to just find their way into his personality, but the qualities that are the most important are the ones he has in common with those around him. David found yoga like most of us; he gave his trust to someone who told him it would be good for him to try it out. These first few experiences with yoga gave David an extremely profound sense of trust. Trust in himself. Yoga has become a deep journey that pulls at the roots of self-realization. What, When, How, Why, Where?. Everything begins with a question.
David?s first introduction to Ashtanga yoga was It?s Yoga. The challenge gave him inspiration and a sense of empowerment. It?s Yoga gave him the freedom and encouragement that he needed most. That?s when David?s love affaire with Yoga began.

Yoga Sutra 1:22 says with as much as you give to the yoga it will give back.. From these first few experiences David has been putting in everything he can; pouring his very heart and soul into the ocean of yoga.
David?s teachers are all around him in many forms. Larry Schultz and Reed Taylor were the first to bring the teachings and challenge of Asthanga Yoga in to David?s perception. Books, articles, and videos have all been ways for him to add to his yoga knowledge, but practice is the only thing that makes him understand it. All of the layers must be removed. This is where David?s true teacher is found. The inner guru, his director in the movie called life.

David is the Co-Founder of It?s Yoga Puerto Rico. He helps run intermediate/advanced classes and workshops at his location and around the world. His home base is in Puerto Rico, but David has had the privilege to study and teach in San Francisco, Miami, Mexico City, and Venezuela. He has worked in one of the biggest studios in the United States and now runs one of the smallest. For David, teaching Yoga is one breath at a time and one person at a time. All is coming.
Studio contact information:
It's Yoga Puerto Rico
51 Maria Moczo
Ocean Park, Puerto Rico 00911
studio phone number: 787.677.7585
studio email: [email protected]
website: www.itsyogapuertorico.com