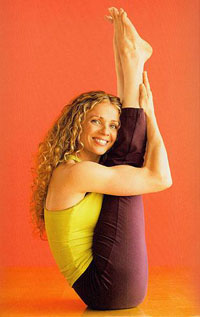 Seane Corn's classes combine a vigorous, fluid vinyasa or "flow" style with emphasis on intention and prayer a mix she says encourages an inner journey toward self-awareness, acceptance and empowerment.
Seane has been featured in magazines including Glamour, Self and Allure and has become one of the most sought-after yoga teachers in America. Her clients have included Sting, Heather Graham, Ashley Judd, Drew Barrymore, David Duchovny, Elizabeth Berkley, Sally Field and Dr. Caroline Myss.
Seane was first introduced to yoga during the late '80s, as a teenager waiting tables at David Life's Life Cafe in New York City. She became close with David and with her fellow waitress Sharon Gannon, who together with Life later opened the Jivamukti Yoga Centers.
In 1992, Seane moved to Los Angeles and began studying at Yoga Works in Santa Monica, where she learned from some of the most renowned teachers in the country including Patricia Walden, Rodney Yee, Richard Freeman, Eddie Modestini, Tim Miller, Maty Ezraty, Chuck Miller, Lisa Walford, Erich Schiffman, John Friend and Shandor Remete. She also trained in India under Sri K. Pattabhi Jois and studied with the spiritual teacher Ammachi Barbara Soloman and Mona Miller.
Seane teaches at Exhale in Venice, Calif., and travels extensively teaching workshops, conferences and retreats internationally. She is a devoted supporter of programs for at-risk girls and women and has joined with her friend Ashley Judd in supporting fundraising and awareness-campaigns for the educational nonprofit YouthAIDS.? She is also co-creator of www.offthematintotheworld.org
Visit: www.seanecorn.com