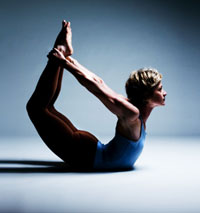 Natasha Rizopoulos has been teaching at Yoga Works in Los Angeles since 1997.? Her teaching style combines an emphasis on precise alignment with a commitment to finding joy and ease in the practice.? She is celebrated for her ability to communicate the essense of a pose or an action, exploring and explaining theory and practice in a manner that immediately connects students to their yoga in profound and transformative ways.
Natasha gained national exposure as a practioner through photographs in Yoga Journal and Seventeen magazines, and then in the book of photographs "Yoga: A Yoga Journal Book".? After a national search, she was then selected to be the featured teacher in Yoga Journal's Home Practice series "Step by Step".? The DVD series, and the Sounds True CD series that accompany it, reflects Natasha's passionate belief that it is possible to teach yoga that is both rigorous and challenging as well as thoughtful and aware.

This approach to yoga is fundamental to both Natasha's personal practice and to the way she shares yoga with her students. A dedicated Ashtanga practioner who studied in India with Sri K. Pattabhi Jois, she has also been very influenced by the Iyengar system.? These two traditions form the basis of her teaching technique, combining the heat and energy of Ashtanga with the precision and attention to detail of the Iyengar method.
In her teaching, Natasha weaves these two styles together so that students can become fully alive to potential in their own yoga.? Her classes take their practice to the next level – whatever that may be for a given person.? Through dynamic and insightful instruction and sequencing, Natasha gives students the tools that enable them to make the mind/body connection, awakening the body's intelligence so that students are fully conscious in their practice.? Once this connection is made, the possibilities are limitless.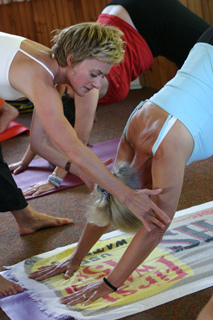 Natasha's unique abilities as a teacher have been informed by the Yoga Works Teacher Training and Advanced Teacher Training programs, as well as her years as a ballet dancer, her training in social work and magna cum laude degree in History and Literature from Harvard.? All these elements combine to produce an approach to yoga that is vibrant, nuanced, heartfelt and articulate.
In addition to her classes at Yoga Works, Natasha travels extensively teaching at workshops and conferences around the country, has been interviewed on national television and magazines, appears in the upcoming feature documentary "Yoga in America" and writes the on-line column "Ask the Beginners' Expert".
Visit her on line: www.natasharizopoulos.com