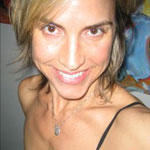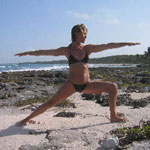 Stephanie has been practicing yoga and movement for almost 20 years and has been teaching yoga since 2000. She has been featured in several lifestyle and fitness magazines including New York Magazine, Women's Health, Quest and Baron Baptiste's video "The Trainer's Edge". She is recognized as a premier yoga instructor and was voted best yoga teacher two consecutive years by New York Magazine. In October 2006, Stephanie was selected by New York Moves magazine as one of New York City's "Power Women on the Rise for 2006", identifying her, along with a selection of other women, as someone who has changed or improved the lives of other women in the City.
Stephanie is founder of Boomerang Yoga "Yoga for a Cause", a company that creates yoga events for people of all levels of participation to benefit and support non-profit organizations and philanthropic projects that advocate children's issues.
Stephanie teaches daily inspirational Powerflow Yoga classes in New York City and has been part of the yoga teaching staff at Equinox Fitness Clubs for the past five years. Stephanie is also Group Fitness Manager for the 85th Street Equinox. Stephanie works with athletic teams in training, organizes workshops and international retreats, and teaches in-house corporate yoga.
Stephanie creatively and spiritually bridges mind, body and spirit into a challenging, rejuvenating and empowering asana practice. Her classes infuse a truly special blend of Freestyle Vinyasa poses choreographed to soulful music and influenced by the foundations of Baron Baptiste. She is dedicated to the intuitive, meditative and transformative process experienced through stimulating and mindful asana practice. Her inspirational and innovative teaching style offers a powerful mixture of fun, sweat and heart. Stephanie encourages students to live an authentic, joyful and passionate life.
Stephanie's yoga and movement studies include:
Simonson dance technique as taught by Lynn Simonson of Dance Space Center New York City 1994 – present
The Himalayan Institute Hatha Yoga Teacher Training in 2000
Astanga as taught by Sri K. Pattabhi Jois with Eddie Stern at Patanjali Yoga Shala from 2000 – present
Sanskrit training with Vyaas Houston of the American Sanskrit Institute in 2001
Yogic Arts Teacher Training with Duncan Wong in 2002
Level I and Level II teacher trainings with Baron Baptiste 2002 and 2003
Prenatal Yoga Teacher Training at Lila Wellness Center in 2004.
Restorative Yoga Teacher Training at YogaWorks in 2005
Continuing studies with David Life and Sharon Gannon, Shiva Rea, Seane Corn, Rusty Wells and Ana Forrest.
Stephanie has a Masters of Science in Education from Sarah Lawrence College.
Stephanie is deeply grateful for the guidance and love of the Divine Spirit and the support of her family, friends, teachers and students.
Find her at: www.eastwestpoweryoga.com