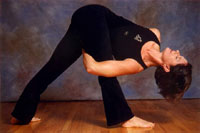 Cyndi Lee founded OM yoga center, www.omyoga.com, in New York City in 1998. With 60 faculty members and a monthly student base of over 5,000, OM offers over 175 weekly classes, 200- and 500-hour teacher training courses, worldwide retreats, yoga in schools and corporate yoga programs, at both the flagship Union Square facility as well as at the Alvin Ailey Institute in midtown Manhattan.
Known for her playful and inspiring combination of authenticity and accessibility, Cyndi Lee receives invitations to teach, lecture, write and participate in panels and conferences worldwide.? She represented the west at the launch of Yoga Journal Magazine in Moscow, is on the advisory of Fitness magazine, has twice been a judge for Balance Bar grants, is on the faculty of Barnes and Noble University where she has taught yoga on-line to over 1,000 students internationally, including an American soldier in Iraq.? Recent panels include Yoga as Medicine (CAM Expo), Yoga and Business (Yoga Journal conference) and Bath and Body Work's Wellness Day.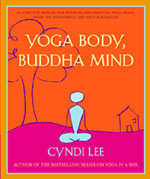 Cyndi is the author and artist of Yoga Body, Buddha Mind; OM yoga Today; OM yoga, A Guide to Daily Practice; OM at Home, A Yoga Journal; and the OM yoga in a Box? series. Cyndi is a contributing author to Will Meditation and Yoga Change My Life?; Joyful Mind; Joyful Wedding; and The Idiot?s Guide to Fitness.? She has written for Natural Health, Dance Magazine, BalletTanz, Cooking Light, Spa Finder, Tricycle, and authored yoga columns in Yoga Journal (2004-05) and the Shambhala Sun (2000-2003).
Cyndi has been frequently featured on TV and in print including CBS? The Early Show, Live with Regis and Kathie Lee, ABC?s Evening News, CNN, Vogue, InStyle, Life & Style, WWD, The Wall Street Journal and Newsweek.
Cyndi's first yoga class was in college in 1972.? After completing her graduate thesis on Women, Spirituality and Indian Dance at UC, Irvine,? Cyndi arrived in New York as a recipient of an Art History Fellowship to the Whitney Museum of American Art.? This was a wonderful opportunity to learn but not enough cash so Cyndi began teaching yoga in Greenwich Village.
Soon she became a fixture in NYC?s downtown modern dance scene, choreographing and performing primarily in XXY Dance/Music and Cyndi Lee Dance Company/Big Moves, Inc. Cyndi also choreographed over 20 music videos for Rick James, Simple Minds, Appolonia, the Dirty Dancing soundtrack, and many more including Cyndi Lauper?s Girls Just Want to Have Fun,? which won the 1983 MTV Best Female Video of the Year award.
After meeting her root guru, Gelek Rinpoche, in the late 1980s, Cyndi?s practice of yoga and Buddhism merged with her choreography.? In 1994, "Dharma Dances" was her last concert, which featured Allen Ginsberg singing his own songs and accompanying himself on harmonium.
Cyndi lives in New York City with her husband, David Nichtern and puppy, Leroy Brown.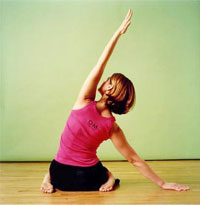 Visit her online: www.omyoga.com
Or at OM Yoga:
826 Broadway, 6th floor,
New York, New York 10003
212-254-YOGA
[email protected]