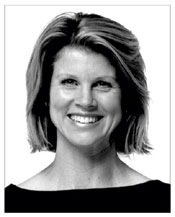 Leah Kalish, MA is committed to nurturing health and empowerment through imaginative play and yoga. She is a dedicated yogi of 18 years and a graduate of the YogaWorks Teacher Training Program in Santa Monica, CA. She holds a BS in Dance Education from New York University and a MA in Human Development from Pacific Oaks College in Pasadena, CA. She believes that play is nature?s biological plan for learning? and that yoga is the ideal playground and laboratory for the education of SELF!
Currently, Leah is Program Director for Yoga Ed., an organization that brings the benefits of yoga to children, parents and educators through yoga programs for schools. She has developed and co-authored all Yoga Ed. curriculums, materials, programs and trainings for both teachers and students. Additionally, Leah oversees the Yoga Ed. Program at The Accelerated School (TAS) in Los Angeles, a progressive charter school where Yoga Ed. is a required part of the PE program as well as all services, research and development.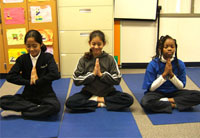 Leah is the co-creator of successful products, Imaginazium?s Yoga Kit for Kids and Gaiam?s Yoga Fitness Videos for Kids, ages 3 6 and 7 12, and Yoga Pretzels by Barefoot Books. She resides in Encino, CA with her husband, Bruce, and their thirteen-year-old son, Mack.
Visit Leah online: www.yogaed.com