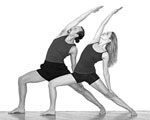 Charles is a third-generation yogi originally from Vancouver, Canada and was formally instructed in yoga and meditation when he was five years old. He received his Bachelor of Arts in Biology and Theatre from Maharishi International University, which included training in Ayurveda. He brings to his teaching the lightness of a dancer's grace and the wit of a comic. His multi-faceted yoga training includes teacher certification from YogaZone, Jivamukti, and extensive training in the Iyengar approach to yoga.
His writing on Therapeutic Yoga is featured in Yoga Journal and many wellness magazines. Among his favorite teachers are Leslie Kaminoff, Mark Whitwell, Lisa Bennett Matkin and Glenn Black.


Lisa was introduced to yoga by her mother at the age of 3, and for most of her childhood was found upside-down on her hands or head! At the age of 9, her parents divorced and she began to have difficulty in expressing her feelings, and as a result, she sought out many ways to numb pain. This expressed itself in various forms of addiction that followed her into her career as an international fashion model. Eventually, she sought recovery, and re-discovered yoga and 12-step programs as her paths to healing.
Lisa became a Yoga teacher through private training with ISHTA Master Yogiraj Alan Finger. Her teaching transmits her experience of Yoga as a path to self-acceptance and spiritual meaning. Lisa finds continued inspiration from teachers including Glenn Black, Angela Farmer, Kevin Gardiner and Rodney Yee.
Husband and wife yogis Charles and Lisa Matkin are known to thousands of Yoga students through their appearance on the Yoga Zone line of videos and TV shows, currently shown on Comcast and Wisdom TV; and as the previous directors of Teacher Training at Yoga Zone and Satsang Yoga and the co-directors of Mind-Body Therapies at Haelth in New York City. Currently senior teachers at Yoga Works, Charles and Lisa Matkin teach 16 classes a week and offer workshops and trainings at all Yoga Works' Manhattan locations. Offering private instruction and well-rounded, challenging group classes as well as specialty courses in Therapeutic Yoga, Couples' Yoga and Recovery work, Lisa and Charles' philosophy of Yoga as a path to self-knowledge and physical and emotional healing radiates throughout their teaching.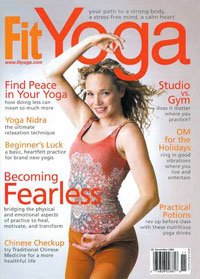 Visit them online at: www.matkinyoga.com