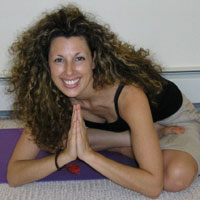 Karendayal is the founder and owner of Bliss Life Yoga. She is a 500 hour Registered Yoga Teacher with the Yoga Alliance and has earned additional certificates of training in Prana Vinyasa Flow? Yoga trained by Shiva Rea. Karendayal holds other specialized certificates of training in Pre-Natal Yoga, Kundalini Yoga for Children, and studies Kundalini Yoga as taught by Yogi Bhajan and Gurmukh Kaur Khalsa.
Karendayal is honored and inspired to live by her spiritual name Dayal Kaur, given to her by the late Yogi Bhajan (PhD, Master of Kundalini Yoga). Her name means "the princess who gives with kindness." Karen teaches Prana Vinyasa Flow? Yoga, an eclectic style of Hatha Yoga, Kundalini Yoga, Meditation, and The Art of Deliberate Creating.
Karendayal is also Licensed and Certified in Therapeutic Massage and Bodywork, an Independent Reiki Master and Teacher, an Integrated Energy Therapy Teacher, a Trained Hypnotherapist, and has a Bachelor of Divinity in Ministerial Counseling. Karendayal is a popular therapist, bringing great relief, inspiration, and empowerment through her wisdom, skill, intuition, and precision of body and energy work.
Visit her online at: www.blisslifeyoga.com