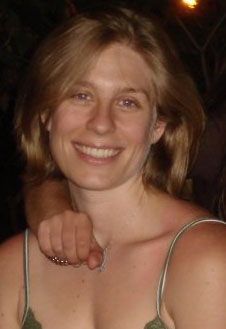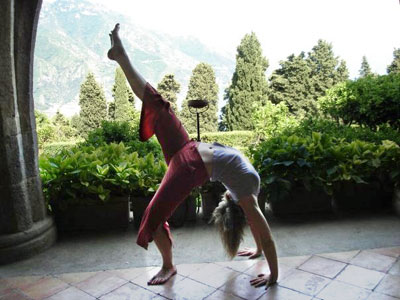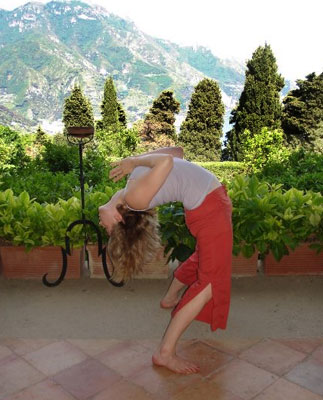 Kathryn Nicolai,
"The person I was ten years ago would never have done yoga. I was obese, unhappy, and very unhealthy. The only physical activity I experienced involved moving from the couch to the fridge and back again. Although I was a vegetarian my version of a meat-free diet was chocolate cake and french fries. Over the next few years I bounced from one addiction to another. I went from overeating and never exercising to frantically counting calories, skipping meals altogether, and working out for hours everyday. One night after my 3rd kickboxing class in as many hours my shin splints and bleeding feet finally forced me to give up. I knew my body wouldn?t let me get back on the stair climber but not wanting to stop working out I wandered into a yoga class.
That first class sold me; not because I was finding some peace but because I had found a new addiction and a new way to compete with myself. I found out that I was very flexible and although I wasn?t very strong I could see that changing quickly. Rather than practice yoga in a balanced sensible way, I attacked yoga, determined that I could beat it and maybe be crowned Queen Yogini.
Overtime the practice and the words of my teachers started to soak in; I stopped competing and slowly started to accept the nature of my own body. Yoga stopped being about battling with myself and became about nurturing myself.
Along the way I found myself wanting to be more involved in yoga. I started teaching at Samadhi Yoga Center in Flushing in 2001 and went on to train with Jonny Kest at the Center for Yoga in West Bloomfield in 2003. I gained invaluable experience teaching at both of the studios mentioned above as well as at Prana Yoga Center in Grand Blanc, and Continuity Yoga in Ypsilanti. Another big piece of my education came when I sat 10 days of Vipassana Meditation in 2005. The concepts of Vipassana, namely accepting reality as it is and recognizing the impermanent nature of all things, greatly influence the way I practice and teach yoga.
While I was doing my teacher training, my mom was working on her Masters in Counseling and at one point we realized that we?d been assigned the same books. The more we talked shop the more we realized that we were doing very similar work in different venues. We wondered, What if we combine our work in one facility?? The idea for Ethos was born. We wanted to offer a place where people could go to let go of stress and find a healthier, more balanced mind and body.
Nearly seven years and thousands of practices after that first class, I have balance in my life and I?m eager to share what I?ve learned. For me, peace of mind and equanimity are not products of squeezing yourself into crazy postures but of the knowledge that comes from understanding just how your body and mind work. I have been an overeater and a non-eater, afraid of exercise and obsessed with it, finally I have reached a point of balance and peace and I invite you to do the same".
Kathryn Nicolai, co-owner, CYT
[email protected]
www.ethosyoga.net
(248) 328-YOGA
ethos yoga
113 South Saginaw Street
in historic downtown
Holly, Michigan